The recent return of Poldark to Masterpiece and the impending gloomy weather have me fantasizing about one of my favorite vacation spots: Cornwall, England.
I visited the seaside town of St Ives while working on my master's dissertation a few years ago, and there was no better spot to escape the stress of "real life." My friend and I would spend the days wandering into shops, eating pasties from Pangenna Pasties (while attempting to dodge hungry seagulls), and checking out the art work at Tate St Ives.
Unfortunately, Cornwall is no longer a few train rides away. I'm left with no other option than to visit vicariously through TV shows, movies, and books– some of which are below.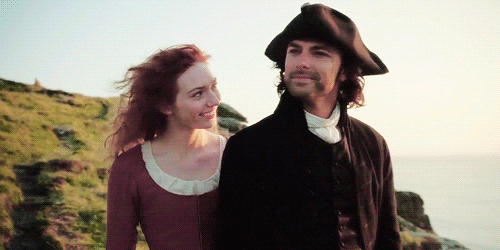 Since the show is what inspired this post in the first place (and it's no secret I'm a huge fan), it's only right for the series to top my list. Start watching for Aidan Turner (and his fabulous wig) and stay for the gorgeous Cornish scenery. (You'll enjoy it even more if you're interested in the politics of mining!)
This leads me to . . .
This book was written by the author of the Poldark book series that inspired the TV show, and features 216 pages of lavish images that will have you picturing yourself brooding along the coast while stuffing your face with delicious pasties.
Rebecca is the perfect book to read on a dreary fall evening. Grab a cup of tea and your favorite blanket and be transported to (haunted?) Manderley. Hopefully any time you actually spend in Cornwall will prove to be less dramatic.
While not entirely set in Cornwall, this movie still makes the list because it stars Domhnall Gleeson and Rachel McAdams, and involves time travel.
This title's been on my to-read list for years now and has tons of great reviews online. I personally can't resist a love story that involves an old English house.
Do you have any Cornwall favorites or thoughts on this season of Poldark? If so, leave your comments below!